Accomplish More with Get It Done!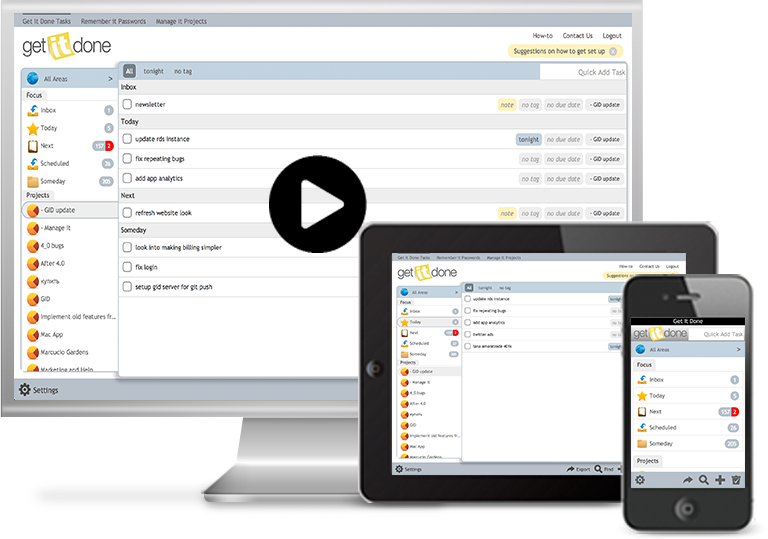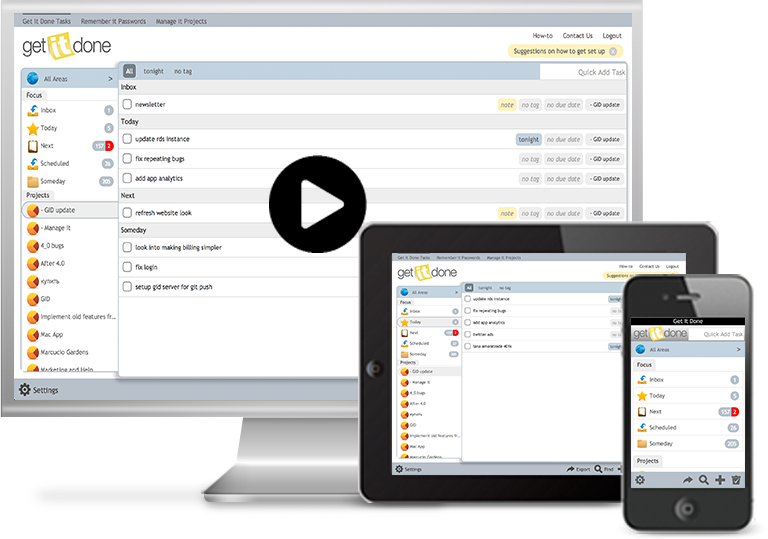 From Home, Work, or Anywhere In Between

Get It Done is a task manager for your web browser and your smart phone. No matter where you are, your tasks will always be in sync.
Use the app for free or get all the features for only $39 a year.

Get started for free!
Here are some reasons you'll love 'Get It Done'

First and foremost 'Get It Done' is a simple but powerful
todo list
and
task manager
. Easy to use and to get organized.
GTD Software
Made Easy!

Based on the
book
Getting Things Done
or
GTD
by David Allen, 'Get It Done' lets you focus on what's important for today and keeps everything else out of your way.

Organize all your tasks and notes into
projects
with only a few clicks. Have a task that you want in a project? Just
tag it
and it automatically shows up in your project.

Get things done on the
internet
through your web browser. Runs on
Windows
,
Mac
, or even
Linux
. There's no need to install any software on your computer.

Delegate
your tasks to your
teammates or co-workers
. If they are on 'Get It Done' then they see that task automatically in their inbox.

Get things done on the road with our iPhone app or Android app. Sync your tasks and notes from anywhere in the world.

Need to be reminded every Wednesday to take out the trash? Set up a
recurring reminder
and we will remind you.
Work seamlessly through your
email
. Send an e-mail to your unique GetItDone email address and the message,
attachments and all
, shows up in your 'Get It Done' inbox.

Need to
access a file
for an upcoming to-do? Just upload it to GetItDone and you can get the file from anywhere you have an internet connection.

Can't do a certain task until a date in the future? We will keep it out of your way until the date you scheduled.

Tags
is what really makes 'Get It Done' shine. Tag priorities, projects, areas of responsibility, anything to get you more organized.

Include
notes
for any info you need to add to your todo including website links and more.
Security is our #1 priority. We backup your data and the website can be accessed
securely through SSL
. Sleep well when you use our
secure task organizer.

Need to give employees a task list or you'll be away from your computer but still need your list of tasks? Our
printable lists
make it quick and easy to take your list on the go.

Sync your tasks to your calendar automatically! We support Google Calendar, Apple iCal, and many more.
Start for free! Or pay $39/year for full version. Start for free!
Check out what people are saying about 'Get It Done'
New & Noteworthy App - Apple
#1 of 50 Sites That Can Boost Your Productivity - Smart Life
Top 5 Paid Apps in the iTunes App Store
"Are you kidding me?? This is sooo cooool!!!!!! You have made me a
customer!! Will purchase service for sure!!!"
"I love it, it's the best online task manager yet"
"Great interface by the way. I have looked at a lot of online gtd systems and Get It Done looks very impressive so far."
"I've been digging around the web looking at every GTD app out there.
I'm a web dev (good use of jquery UI btw) so I'm looking for a webby interface. I love this. Tried it for 5 minutes and bought it."
As a busy mom of 3 boys (4 if you count my husband) I have a lot on my plate. I needed an app that would help me be more organized and efficient on the iPhone. I have tried most if not all of the to do/task apps out there and nothing has come close to Get It Done! I love the email feature, printable lists is a lifesaver and being able to sync to the web app is fantastic! Additionally, your support of Google Calendar has made me your biggest fan!! And I can't believe how easy it is to use... LOVE IT LOVE IT!!! I will definitely recommend your app to my friends and family. - 5Gotter - Apple iTunes
Start for free! Or pay $39/year for full version. Start for free!